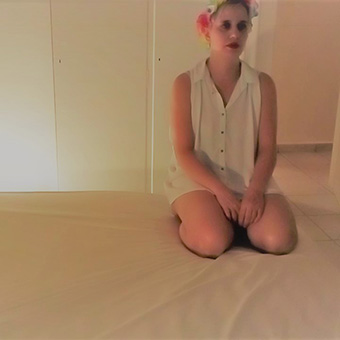 watch: 29th June2020 at 3pm UTC
duration: 5h
ARTIST'S STATEMENT
Without the ability to actualize an idea or concept, art would not exist. My work is a constant search for the best way to interpret the ideas that I have about myself and the world I live in. I do not limit myself to one medium, style, or concept.
This video performance explores the falling. She's falling. A person, a waitress, an actress, a
performer, an artist, a student, a girl.
She's just a girl. She needs to talk to somebody, to hang out, to have a good night f***k or she needs just a hug.
And she's falling. She's young, she's nineteen, she has flowers in her hair, red on her cheek and she's falling. She has nightmares, she has dreams.
And she's falling.
For Eleni.
*Eleni Topaloudi: November 28, 2018, at 07 30. They raped her, fatally wounded her, threw her intoa deserted location. In the icy waters of the sea on the beach "Fokia" in Rhodes island, Greece. "
---
A girl that is falling. Time goes by and she's falling. Two years ago a 21 years old girl, Eleni Topaloudi, found drifting in the water, drowned in "Fokia" beach, Rhodes island. Two men of her age raped her, beat her to death and drop her naked into the water where she drowned. My online performance is dedicated to Eleni and each Eleni.
She was born in 1980 in Germany but grew up and lives in Greece. She is a graduate Higher School of Dramatic Art "Veaki", in 2002. "She took her first steps in children's stage of the Argo Theater (2003-2006) where she participated in all three of her children's plays Marianna Kalbari directed by Despina Sidiropoulou ("The red hat", "The Princess and the Frog "," The Little Giant's Great Journey "). In 2005 she came in contact with theater No and Yukio Misima in the play "NO" at the theater of the ''New World'' directed by Angelita Tsougou. She also trains by participating in a seminar by Thomas Moschopoulos on "American realism", in a seminar with Costas Filippoglou and Lilo Baur with the theater of invention and the physical theater as their subject of research and also in a BUTOH dance seminar with Olia Lydaki.¨Other productions that follow is at the Fournos Theater: "Wig" (dir: Filippos Bouraimis), at the Arti Theater: "The Lunch "Kathrin Liegman (dir: Anna Makraki-Dimitris Vergados), at the Vafeio Theater: "THE Darwin's turtle "Juan Mayorga (dir .: Maria Xanthopoulidou). Nostalgia group at the Rabbithole Theater, directed and directed by George Simon: "The applauser "," Purple romance "and William Shakespeare's" Winter Tale " directed by Tonia Ralli. Also participated in the long durational performance "Anima Captus" directed by Rafika Chawishe at the Benaki Museum in May 2018. ARTIST'S WEBSITE