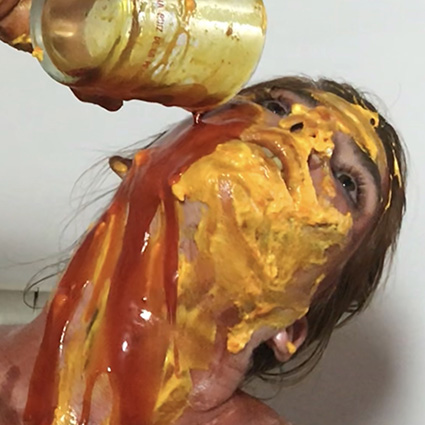 watch: 24th October 2020 at 8pm UTC
duration: 30min
" Quiet! It's only the wind! ", is an online performance project raised after the closure of the scenic spaces in Spain, where the company resides. in which the artists transform the domestic space into a cinema set and with the help of the cameraman, Javier Arocena develop the entire performance in a sequence shot on steadicam. transforming with Lights the nooks and crannies of home architecture create a suggestive journey that transports us in a poetic reflection on the physical and mental states that paranoia and isolation entail. For the technical and creative development of performance, the two artists explore the relationship between body expression, painting and organic materials, thanks to a parallel experience as a cook Carlotta develops a study of edible pictorial materials that together with Sabine's makeup and characterization study generate a interesting use of paint and makeup in contemporary dance.
BIO: Carlotta Storelli and Sabine Lane are two international interdisciplinary artists who are dedicated to contemporary creation within the framework of the Inervo company, of which Carlotta Storelli is the director. Both study theater, dance, audiovisuals and fine arts and develop scenic and audiovisual creations dedicated to the study of new interdisciplinary languages ​​and social and environmental criticism and reflection. Inervo company works on several projects since 2014 in Spain, Switzerland, France, the United States of America, Denmark, Morocco among other countries.