HUMANIMALS – PERFORMANCE from Laura Corcuera on Vimeo.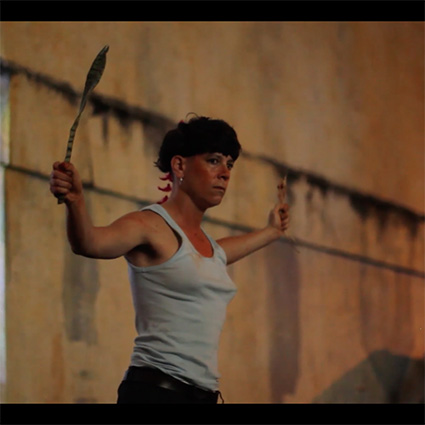 "An action inspired by nature and poetry that begins with a present body in space/time expanding into a community in resistance.\" LCGG (Laura Corcuera González de Garay)
HUMANIMALS A performance by Laura Corcuera Cultural Advancement: Juliana Notari
Authorship, idea and execution: Laura Corcuera. Experimental Sounds: Vincent Bruxelles and La Boulangerie. Poetic Texts: Belén Macías, Joana G. Grenzner, Mafe Moscoso, Ainoa Mela and Belén Rubira. Off Voice: Laura Corcuera. Experimental Audiovisual: Pantano G. Film 2017. Performers: Lourdes Elías, Carlos Puebla, Raquel Poblete, Yelena Cvéjic, Ainoa Mela, Soraya González Guerrero, Lucía Mazarrasa, Sandra Arpa, Belén Rubira, Sonia Loaysa, Daniel Gandullas and Ismael Corsé (Ursaria), Francis Cuadro, Sara Kimón, Ana Martínez, Susi Martínez, Angosta di Mente and Laura Corcuera. Cameras: Gema Segura, Santi Piñuecar, Pilar Clua, Ainoa Mela and Laura Corcuera. Directed by LCGG. Camera Brazil: Yuri de Franco. Audiovisual edition: Laura Corcuera. Curator: Juliana Notari. First release: VIII INACT Festival of Strasbourg, France, 2018. International production in collaboration with Hastebol Residence of Braojos (Spain, 2017), Toronto Ozzy's Palace and Steven Conway (Canada, 2018) and Condominio Cultural of Sao Paulo (Brazil, 2019).
BIO: LAURA CORCUERA (Zaragoza, Spain, 1979) Artist, writer and journalist. She combines her journalistic work with the practice and teaching of the visual arts and artistic activities. She is the author of "La Ruta de La Performance" (Píkara Magazine, 2017) and director of the research project \"Performar Lo Indecible\" (Intermediae Matadero Madrid, 2018-2019). She has designed and presented more than 100 performances since the year 2000: solo performances (La Cebolla, Este es mi queerpo, El armario, Esto ha dejado de ser un desierto, Trilogía de los Entierros, Tensiones en Ángulo de 90 grados, La Vejez, Humanimals, among others), instalations (La Bañera, Piensa El Corazón, La Paja, among others), collaborative performances with other artists and thinkers such as Juliana Notari, Lucía Loren, Mónica Cofiño, Litsa Kiousi, Angeliki Tsoli, Andrea Zitlau, Steven Conway, Marina Garcés, Denys Blacker, Isil Sol Vil and Marina Barsy Janer, among others, as well as collective performances (La Boulangerie, Llucalarium, La Encarnación de la Ciencia, Fetiche Europa, Ayer es hoy o el Día que murió La Thatcher, S.O.S.TENERNOS, Operación Legazpix, entre otras). Her life experience, her practices and her body are the first Corcuera archive for a study of perfomatic, technopolitical and communicative practices throughout the first decades of the 21st Century. ARTIST'S WEBSITE