---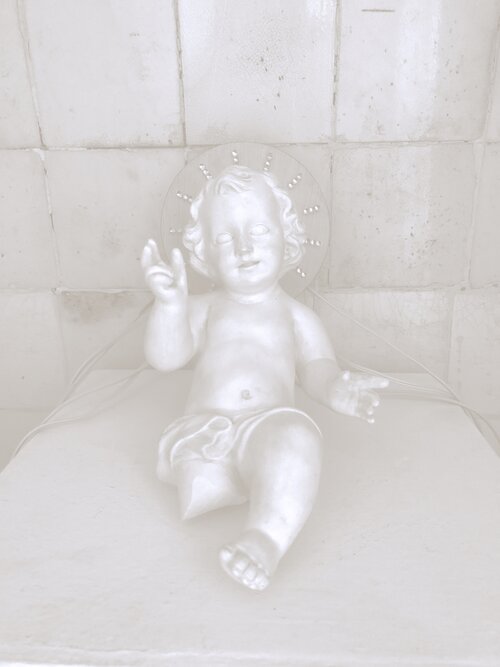 [Loading…] is an online video performance exploring the impact of global preservation, isolation, timelessness and digital interconnections that have dwarfed the world in a year of pandemic. Vilas-Boas unpicks the systemic structures in which assets are amplified using digital word-of-mouth at a time where physicality and in-person communication are restricted.
[Loading…] was initially presented as an installation as part of Vilas-Boas' solo show, ~EDEN~ at Zaratan Arte Contemporânea in Lisbon, July 2019. Influenced by concepts of algorithmic dystopia, oppressive digitalisation and areas where technology meets religion, the work has now been reformed into a looped video work, making use of the digital culture that it exists to examine.
Vilas-Boas describes the visual unfolding of [Loading…] as a form of "aureola", a pictorial signifier that playfully utilises iconography to unveil our inherently reliant relationship and addiction with digital technologies. This use of sacred symbolism incites a provocation which requires audiences to contemplate the psychological effects of disconnection, digital impermanence, impatience and collective vulnerability through our continued use of the internet.
A sociopolitical examination of loss threads its way through the layers of [Loading…] where we are at the mercy of systemic distance and digital dispersal – under lock-down and vulnerable and isolated like never before. Our isolation began long before Covid-19 posed the threat of viral infection and it seems we now find ourselves in a fragmented reality where pockets of social interaction are vital as well as viral. Text by Catriona Whiteford.
……………………………………………………………………………………………………………………………….
FILIPE VILAS-BOAS (1981, Portugal) is a​ conceptual, new media artist who lives​ and works in Paris. With a strong appeal to sculpture, the artistic background of Filipe Vilas-Boas followed the direction of interactive installations, using non-traditional methods of production and working regularly within a team of engineers, roboticists, data scientists, musicians and astronomers, oriented towards an hybrid area and linked with the digital revolution initiated at the end of the 20th century.
Exploring our use of tech,​ its ethical and aesthetic implications, ​Vilas-Boas' work often addresses how technology influences the life of modern man, its relationship with the public space and environment, the idea of pharmakon or even the idea of power​. ​In parallel to the construction of large and medium scale installations, the artist also produces videos and performances.
His works were highlighted in the ​Portuguese Emerging Art​ books, consecutively in the 2018 & 2019 editions.