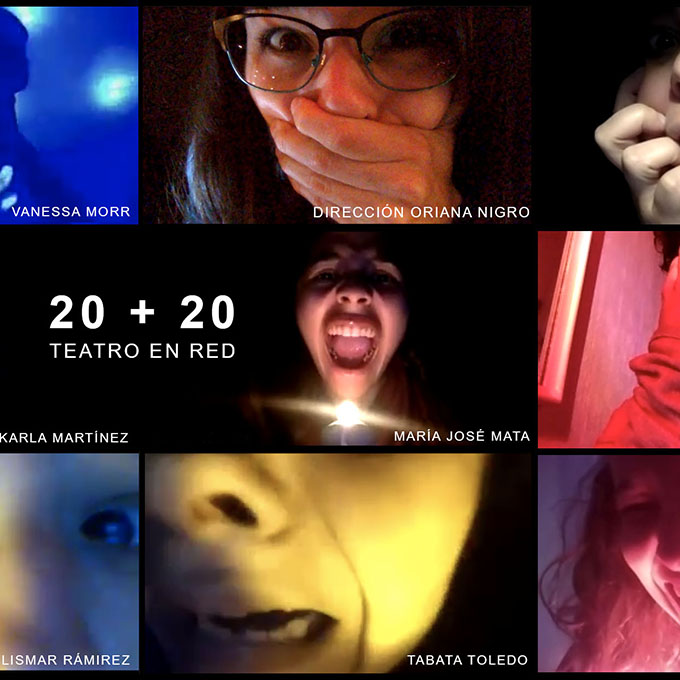 watch: 29th June 2020 at 2pm UTC
duration: 35 min
20 + 20 is an online theatrical experiment with a scenic dramaturgy, thought out directly for the platform, visualizing the 9 interpreters in conference. With isolation being the dotonating concept and theme of the project, we've worked driven by various questions: what are the emotional transits we endured over time while stuck at home? How does this situation affect the scenic creators? We decided to explore the possibilities and break the distance via a virtual scene which ends with a look of hope from the approach of various writers, journalists, and poets, with the evolution or mutability of contemporary art. This piece is filled with signs, metaphors and sense, while permanently searching for other ways to link us. We used the devices as resonance boxes to work the words , looks and gestures on the internet in real time, where the network serves as a shared spaces between the spectator and actor.
BIO: ORIANA NIGRO ACEVEDO Direction Graduate in Theater Design from Universidad Nacional Experimental de las Artes in Caracas-Venezuela (2013); Experience in ​costumes, props, set design and lighting design in theatrical works, opera, dance, films, cultural and corporate events since 2007 with different groups and companies such as Teatro Nacional Juvenil de Venezuela (TNJV), Compañía Nacional de Teatro, Fundación Teatro Teresa Carreño Teresa Carreño and LEGOS, a design studio in which she played various roles not only in the area of ​​design, but also in the part of art production, stage assistance, direction, production and assembly. In 2012 she completed a Diploma in Art Criticism at Universidad Central de Venezuela and is currently nearing completion of the Specialization in Theater of Objects, Interactivity and New Media at Universidad Nacional de las Artes in Buenos Aires. In Argentina, she has participated as costume designer, illuminator and set designer of various theatrical pieces, and presented her first theatrical installation within the framework of FASE (C.C. Recoleta, 2016). She was part of a couple of short films such as \"Why are you leaving?\" On the art team from Fabio Vallareli, who has participated in several festivals worldwide, with mentions and awards. In 2019, she premiered as director of "Jazmines en el Lídice", text by the renowned Venezuelan playwright Karin Valecillos. She currently coordinates and directs a laboratory called TEATRO EN RED with his first project launched during the pandemic called 20 + 20.
INTERPRETERS:
Vanessa Morr, Sara Valero Zelwer, Eliana Santander, Karla Martínez, Maria
José Mata, Lismar Ramírez, Tabata Toledo, Maria Claret.