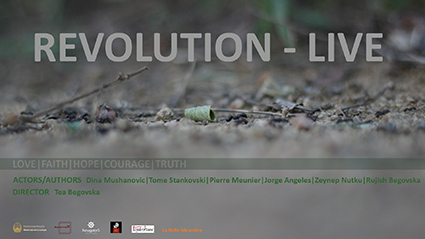 watch: 23rd October 2020 at 8pm UTC
duration: 40min
This video project gathered actors from 5 countries: Bosnia and Hercegovina, Macedonia, France, Mexico and Turkey. The actors are also authors of their videos, talking about 5 different themes: love, faith, hope, courage and truth. Themes that are part of our lives and our profession as artists. They express their ideas and thoughts about these themes wanting to make a change in everyday life. This project was made during quarantine, when all of the actors and the director had a chance to challenge themselves to tell a story for such important things, everyone talking on their own language. This is our revolution. Something we believe that will become your revolution too.
BIO: Tea Begovska (30) graduated theater directing from the International University Europa PRIMA in Skopje,where she also completed specialization work about methods of acting. After graduating Begovska started working intensively in alternative spaces. Her works have been performed in several cities, theater and art festivals and won several awards. Begovska also works as a mentor for theater and film acting in private schools and workshops.