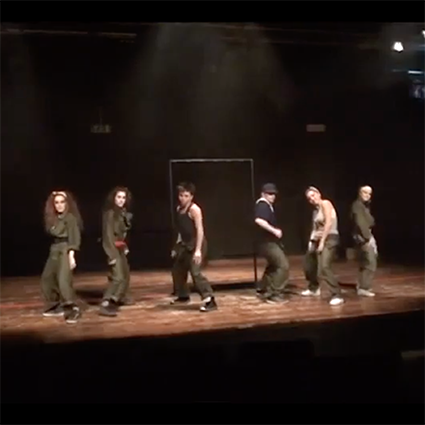 watch: 17th August 2020 at 10pm UTC
duration: 4:25min
"Freedom State of Music" is set in a prison, where the protagonist (Flavia) is dragged in by a policeman. She meets the other inmates and they start battling. They suddenly realize that the prison bars can be opened by a combination of sounds, which make music. Touching the laser bars, they play a song, managing to get out and they start dancing, freeing themselves. They stop fighting. At the end of the piece, they find themselves back in the prison cell but with a difference: they realize that they could go out anytime, freeing their minds through the magical use of art, dance, music.
BIO: Flavia's CV:Flavia Caselli started dancing at a very young age in Rome, her hometown. She trained all dance styles such as contemporary, jazz, ballet, theater jazz and tap, and then focused on street dance, particularly on old school styles such as popping, locking, breaking. Her favourite style is a mix of hip hop and contemporary. She trained in several dance schools in Rome, and she then moved to Los Angeles, where she trained at Debbie Reynold's studios between 2011 and 2012. She then moved to New York City, where she graduated at Broadway Dance Center, in 2014. In 2015 she moved to London where she started working as a professional dance performer and dance teacher.
In Italy she worked for a Michael Jackson tribute dance company, as a dancer and assistant choreographer. She also choreographed the Italian version of the musical "A Christmas Carol".With "Delirium 3mens" hip hop crew she appeared on "Rai1 Mattino in famiglia" TV show and she took part in many dance festivals and competitions. She also represented the Italian Street Dance scene as one of the protagonists of a TV show called "Guardami" on Rai2 channel.It is on that occasion that she founded the group "Orsamà", performing on national TV and in theatres
In NYC she shot several music videos with American artists, such as Konshens and DJ Erick Morillo, and a she shot a tribute video for Madonna's birthday, choreographed by Travis Payne and Stacy Walker (Michael Jackson choreographers), in Central Park.
In London she started performing as a backing dancer with the Michael Jackson impersonator Danny Oliver, touring all over the UK. She joined The Rebirth Network, a hip hop crew, performing at Breakin' Convention and at other big events in the UK. She joined the contemporary dance company MCDC and with them she took part in several festivals such as Resolution. She also took part in several other independent dance projects. In 2016 she danced in KRS-One's concert in Birmingham. She currently performs and teaches all dance styles in the UK and in Italy and in 2018 she taught a workshop in Santa Catarina, Brazil.